Pineapple and Citrus with Vitamin B7
How fast will I receive my order?
Our master blenders have taken smooth herbal tea and blended it with zesty pineapple, citrus and Vitamin B7. Now, that's clever! Vitamin B7 helps maintain normal skin and hair growth.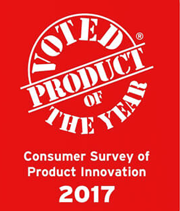 Product of the Year
This product was voted as the Product of Year 2017 by Consumer Survey of Product Innovation in the Beverages Category.
Get 10% off your first order! Subscribe to our newsletter.